Back Injury From Car Accident - Common Treatments
Back Injury From Car Accident - Common Treatments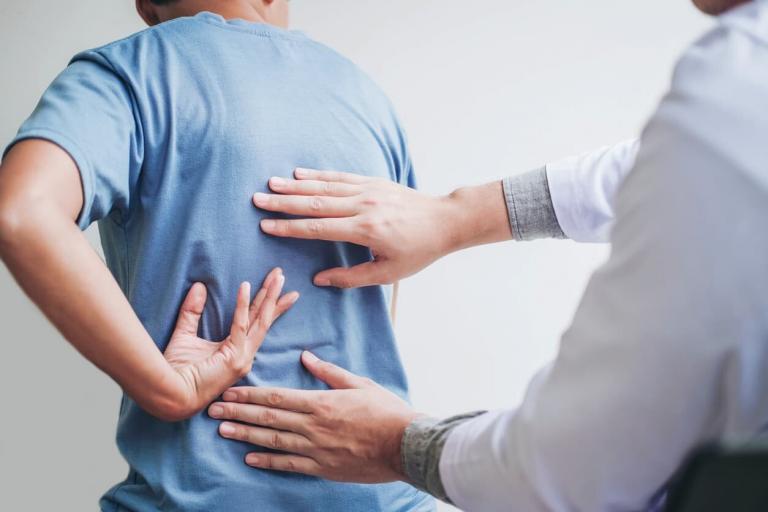 According to the CDC, an estimated 4 million emergency department visits occur each year due to motor vehicle injuries. Of these, back injuries are some of the most common, often resulting from the force of the impact. While some car accident back injuries can heal on their own with time and rest, others may require more aggressive treatment. Below are common treatment options for back injuries sustained in a car accident.
Nonsurgical Treatments for Back Injuries
Nonsurgical treatments are often the first line of defense against back injuries after a car accident. These treatments can help reduce pain, inflammation, and stiffness while promoting healing. Common nonsurgical treatment options include:
Ice and Heat Therapy
This is perhaps the most common form of therapy for both chronic and acute back injuries. Ice therapy helps reduce inflammation and pain, while heat therapy relaxes muscles and increases blood flow to the area.
While ice and heat therapy is generally safe and effective, it's important to consult a doctor before beginning treatment, as cold and heat therapy can aggravate certain conditions, such as post-traumatic arthritis.
Physical Therapy
Physical therapy is another form of treatment that may benefit those who have suffered a back injury in a car accident. This treatment involves exercises and stretches that are designed to strengthen the muscles and improve the range of motion. Physical therapists may also use electrical stimulation or hot and cold therapy to relieve pain. In most cases, physical therapy is performed on an outpatient basis, although some patients may require a short hospital stay for intensive therapy.
Chiropractic Care
Chiropractic care involves the use of manual manipulation to realign the spine. This can help relieve pain and improve the range of motion. In addition, chiropractic care can also help promote healing by stimulating the nervous system.
Surgical Treatments for Back Injuries
While surgery is generally a last resort, it may be necessary to treat a back injury. This is especially true if the injury is severe or conservative treatments such as physical therapy and pain medication have not been effective. The most common types of surgery for a back injury include:
Spinal fusion: As the word "fusion" suggests, this treatment involves joining two or more bones. Spinal fusion aims to stabilize the spine and relieve pain by stopping the movement of a damaged vertebra or vertebrae.
Discectomy: This treatment option typically involves the removal of a herniated disc that is putting pressure on the spine. This procedure can be performed through several different approaches, including open or minimally invasive surgery.
Laminectomy: This procedure involves removing a portion of the vertebral lamina, a small, bony plate that covers the spinal canal. A Laminectomy can be performed as open or minimally invasive surgery. And is usually used to relieve pressure on the spinal cord or nerves.
Surgery is not without risks. These should be carefully discussed with a physician before any decisions are made.
As you can see, there are many different treatment options available. If you have been injured in a car accident, it's important to talk to an experienced doctor to determine which treatment option is best for you.
Speak With a St. Louis Car Accident Lawyer
Treating a car accident-related back injury can be a long and expensive process. If you have been injured in an auto accident due to the negligence of another driver, we can help you protect your legal rights and pursue the financial compensation you are legally entitled to to cover the cost of your treatment. Give us a call 24/7 at (314) 361-4242 to schedule a free case evaluation.
Learn more: When to Call a Lawyer After a Car Accident?
Legal Articles Additional Disclaimer
Lawyer.com is not a law firm and does not offer legal advice. Content posted on Lawyer.com is the sole responsibility of the person from whom such content originated and is not reviewed or commented on by Lawyer.com. The application of law to any set of facts is a highly specialized skill, practiced by lawyers and often dependent on jurisdiction. Content on the site of a legal nature may or may not be accurate for a particular state or jurisdiction and may largely depend on specific circumstances surrounding individual cases, which may or may not be consistent with your circumstances or may no longer be up-to-date to the extent that laws have changed since posting. Legal articles therefore are for review as general research and for use in helping to gauge a lawyer's expertise on a matter. If you are seeking specific legal advice, Lawyer.com recommends that you contact a lawyer to review your specific issues. See Lawyer.com's full Terms of Use for more information.