Driving Safely in Construction Zones
Driving Safely in Construction Zones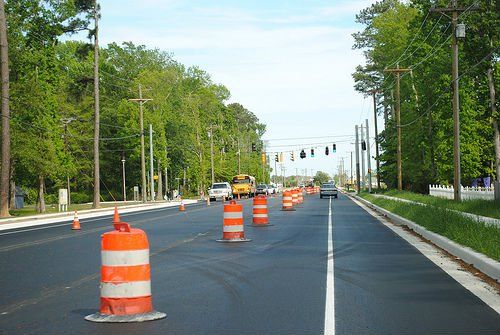 More car accidents occur on the road in the summer then during any other season. There a number of contributing factors responsible for the higher incidence of car accidents, including higher levels of alcohol consumption, rain, and aggresive drivers. Road construction is also a concern, as city, state, and local authorities take advantage of the warmer weather to repair road damage and construct new highways.
There is a high risk of driving through a Missouri construction zone, both to you and the men and women working in them. If you have been injured in a construction zone car accident, contact a St. Louis car accident attorney from The Hoffmann Law Firm, L.L.C. In some cases, the accident could have been prevented had better care been taken at the site, making the responsibility for the accident fall on the shoulders of another party.
What is The Cause of Road Construction Accidents in Missouri?
The highways leading in and out of St. Louis and the suburbs are busy during the summer, as vacation season begins. The extra congestion on the roads does not mix well with the delays caused by road construction, often leading to aggressive behavior in drivers. Compounding this are confusing road signs and attempts to direct traffic into different directions.
Aggressive drivers cause a number of construction site accidents around Missouri, but so does poor planning on the part of construction crews. Signs are not always clear or easily seen and alternate roadways are not always able to handle the volume of traffic. In order to avoid becoming a victim of an accident under these circumstances, a driver needs to be prepared when driving through a construction zone.
Driving Through a Road Construction Zone
A construction zone may create traffic that is bumper to bumper and practically idle. Following these tips may help you avoid a car accident.
Stay off of your phone. Some drivers believe that since they are not moving, they can send texts or talk on the phone. With the amount of other cars around you, it is important to stay focused on the road.
Put on your headlights to make yourself more visible to other drivers.
Watch the brake lights of the car directly in front of you, as well as those in the next lane.
Resist the temptation to tailgate, even when having some distance leaves an opening for other cars to enter.
Never wait until the last minute to merge into the next lane when there is a closure.
Obey the posted speed limit signs.
Stay alert for uneven pavement.
Do not try to take any shortcuts by driving on the shoulder or median.
Following these tips will not get you where you are going any faster, but they will ensure that you do get there in one piece. If pressed for time, allow for plenty of extra travel time, and before leaving your house, check with the Missouri DOT for any construction zones that may cause you a delay.
St. Louis Car Accident Attorney
If you have been injured in a car accident because of another driver's negligence, speak with a personal injury attorney at (314) 361-4242. Give us the specifics of your accident and we will help decide your next best course of action.
Legal Articles Additional Disclaimer
Lawyer.com is not a law firm and does not offer legal advice. Content posted on Lawyer.com is the sole responsibility of the person from whom such content originated and is not reviewed or commented on by Lawyer.com. The application of law to any set of facts is a highly specialized skill, practiced by lawyers and often dependent on jurisdiction. Content on the site of a legal nature may or may not be accurate for a particular state or jurisdiction and may largely depend on specific circumstances surrounding individual cases, which may or may not be consistent with your circumstances or may no longer be up-to-date to the extent that laws have changed since posting. Legal articles therefore are for review as general research and for use in helping to gauge a lawyer's expertise on a matter. If you are seeking specific legal advice, Lawyer.com recommends that you contact a lawyer to review your specific issues. See Lawyer.com's full Terms of Use for more information.