Workplace Injury Risks Facing Hospitality Workers - Missouri Attorney
Workplace Injury Risks Facing Hospitality Workers - Missouri Attorney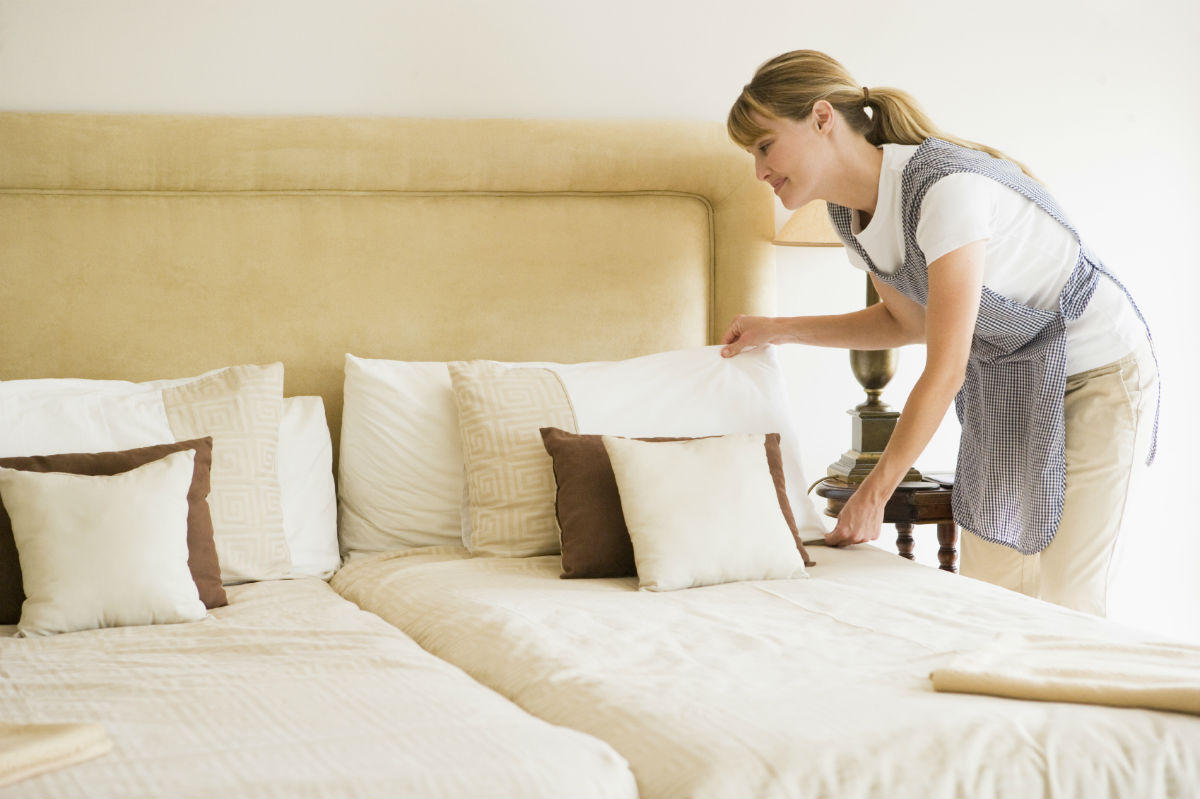 Hospitality industry workers are under constant pressure to ensure complete customer satisfaction. With competition in the hospitality industry now at the peak, premier hotels are trying hard to have their accommodations resemble royal rooms. All the super thick mattresses, decorative bed skirts, and plush duvets mean extra work for the housekeeping staff. The king size beds can weigh as much as 100 pounds. Now think about lifting this bed to accommodate fitted bed sheets at least 15-20 times each day, and you will realize how hard the work of an average housekeeper is. Some other tasks they perform include pushing and pulling heavy carts, stooping and climbing to clean bathroom tubs, showers and floors, and carrying heavy linens. Even the restaurant workers have to constantly strive to keep up with quick service times. In this post, our work injury lawyers will discuss some of the common injury risks facing hospitality workers.
Common injuries hotel housekeepers suffer
Musculoskeletal disorders involving the ligaments, joints, nerves, muscles, tendons, back and neck
Chemical exposure
Acute trauma such as fractures, contusions, burns, strains/sprains and lacerations
Stress due to factors such as increased work load, time limitations, sexual harassment and assault
These injuries occur frequently and affect a large percentage of workers. According to a study published in the American Journal of Industrial Medicine relating to housekeeping staff in hotels:
47 percent experienced bodily pain range from severe to very severe in the last month.
84 percent had to take pain medication during the last month for work related pain
78 percent experienced pain in the last year either caused or aggravated by their work.
Injury risks facing restaurant workers
An effective risk management protocol is a must for restaurant workers as well, because bar, dining and kitchen floor can pose many dangers, especially when workers are trying hard to provide top quality service. Some of the most common injuries restaurant workers suffer stem from slips and falls and burns. Other hazards include:
Musculoskeletal disorders including carpal tunnel syndrome, low back pain and tendonitis related to the various duties of the kitchen crew. Additionally, wait staff has to constantly twist, reach, and lift
Slips, trips and falls resulting from wet and slippery floors from food spills or water
Ergonomic hazards include working in awkward and unnatural positions and standing for prolonged time periods
Cuts and lacerations caused by incorrect use of knives or by using machines with no guards or malfunctioning guards
Burns caused by hot surfaces, deep fryers, hot grease and steam
Chemical exposure resulting from using or being around compounds used to disinfect and clean
Assault, workers handling cash are at a higher risk of workplace violence.
Accidents can happen even when all necessary precautions are taken. Workers should be well aware of their rights to benefits should they get injured on the job. Call the Law Office of James M. Hoffmann today at (314) 361-4300 to schedule a free consultation.
Legal Articles Additional Disclaimer
Lawyer.com is not a law firm and does not offer legal advice. Content posted on Lawyer.com is the sole responsibility of the person from whom such content originated and is not reviewed or commented on by Lawyer.com. The application of law to any set of facts is a highly specialized skill, practiced by lawyers and often dependent on jurisdiction. Content on the site of a legal nature may or may not be accurate for a particular state or jurisdiction and may largely depend on specific circumstances surrounding individual cases, which may or may not be consistent with your circumstances or may no longer be up-to-date to the extent that laws have changed since posting. Legal articles therefore are for review as general research and for use in helping to gauge a lawyer's expertise on a matter. If you are seeking specific legal advice, Lawyer.com recommends that you contact a lawyer to review your specific issues. See Lawyer.com's full Terms of Use for more information.